Welcome to the web site of Terry's All Locks.

Terry's All Locks was established 32 years ago by Mr Terry Bland (senior,) and second generation ownership continued in 1986, when Mr Terry Bland (junior,) took over. We are Master Locksmiths and specialise in lockouts, break-ins, and any security need for your home, car or business.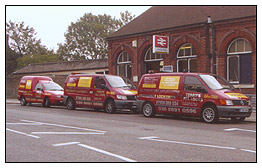 We provide a full range of locksmith services and can solve any problem you may have. We provide a high quality, personal service, which guarantees you quality and prompt attention. We are based in South East London but will cover most of London and the surrounding areas, and our broad customer base will testify to our dependable and dedicated service.
We offer a comprehensive 24-hour, 365-day callout service, which means that whenever you have a problem, we are here to help. We want to make sure you're secure. Our emergency twenty-four hour service means that whenever you need a new lock or you have locked yourself out, there is reliable, professional and fast service at hand.
We offer the following services:
Locks opened and fitted.
All types of locks and security systems sold and fitted.
Cars, homes and businesses catered for.
Insurance work.
Burglar alarms.
Door entry systems and security grilles supplied and fitted.

Wall and floor safes supplied and fitted.
Key cutting service.
Massive range of locks kept in stock.
Car keys made for British and foreign cars.
Code cutting service.
Lockouts and break-ins.
Lock opening service.
For any further details or to enquire about our services, please don't hesitate to contact us at either address or telephone number:
379 Brockley Road, London
SE4 2PH
(next to Crofton Park Station)
Tel: 020 8691 0596

152 Well Hall Road,Eltham, London
SE9 6SN
Tel: 020 8480 8348
You are visitor number: